Patented Internal By-Pass Coolers
U.S. Patent No. 8267162

Hayden's by-pass series is available in 4 sizes to fit a wide range of applications from compact cars to class "A" motorhomes. All cooler brackets come pre-drilled for easy mounting and include all hardware necessary for installation. All coolers are 100% pressure tested at the factory ensuring you get the same quality and performance you have come to trust for over 50 years from the "Leader in Automotive Cooling."
PATENTED Internal Pressure By-Pass Design
Helps transmission reach operating temperature faster!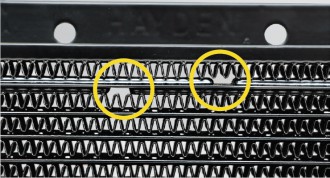 Bi-directional flow
33% more efficient than traditional coolers
High efficiency louvered fins and special oil turbulators
100% brazed aluminum construction offer superior strength and reliability
Ideal for cooler climates
Hayden's patented internal pressure by-pass coolers allow the vehicle's transmission to reach optimum operating temperature quickly by routing the fluid through the by-pass channel of the cooler until fluid temperature increases. This new design allows vehicles in colder climates to reach proper operating temps faster which improves fuel economy and helps reduce friction on internal components. Hayden's internal pressure by-pass design incorporates an integrated valve that eliminates the need for external valves and additional plumbing at installation.